I was in Mcleodganj for some work in on 29th March 2021 after spending a night in Chandigarh. JS Maan, my classmate from MACT Bhopal lives in Chandigarh and we had great time together at Chandigarh remembering good old days of MACT, Bhopal!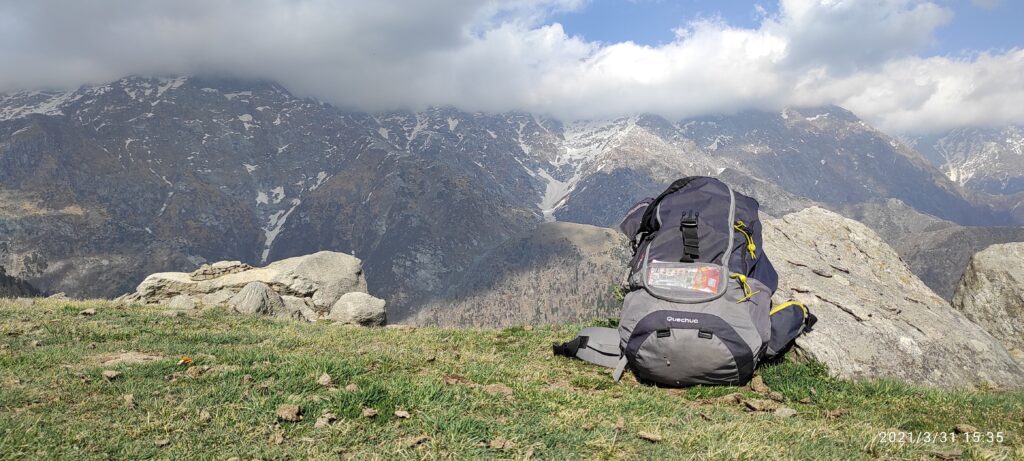 My work at Mcleodganj surprisingly done in a day while I have been told that it would take at least 5/6 days. So, I thought, I should go for quick trekking. I was not prepared at all, like I was not really running or doing any aerobic exercises in order to increase my lung capabilities or making my legs/knees used to carry out difficult trekking. Finally, I was not even carrying any trekking gears, not even shoes!
But the call for trekking in the Himalayas as well as few days of unplanned off days was too much. So, I decided to take an easy trekking route upto Lahesh cave. Before doing so, I tried to read this route from other trekekrs. Mostly I found that the trek to Triund, approx 8KM is very easy. From there, its little challenging up to Lahesh cave.
But, when I started the trek on 31st March 2021, I was so wrong! No, the trek to Triund is no way an easy one! Its a difficult one, specially for solo trekkers who carry weight of say 15KGs. The trek from Bhagsu to Triund top is quite steep. After reaching Triund from Bhagsu, I spoke to some tourists who were taking photographs, making videos. From them, I came to know that there is another trekking route to Triund top from Dharamkot which is actually easy! So, anyone who is looking for easy trek up to Triund, please take the Dharamkot one, not the Bhagsu one! Though, I think real trekkers would take Bhagsu simply its challenging.
After spending quite a time, I started for Snowline, which is approx 3KM, again steep, but that is understandable. It took approx 2hours to reach Snowline where I put up camp for the night. There is shop there which operates 10 months a year, except for January and December. Its beautiful location where there were some snow. The the hills facing West were fully covered in snow. The shopkeeper told me that there had been less snow this year. so there was less snow at this point of time!
Next day, I started for Lahesh cave, its approx 2.8KM from SnowLine Camp at around 9AM. Its steep climb, half way to Indrahar Pass. While I could reach Indrahar Pass, but I dropped the idea as I was not really prepared and equipped for that. From Lahesh cave, one can have excellent view of Laka Glacier as well as snoline hills!
I spent 20/30 minute at the cave, taking photographs and started back for SnowLine. I reached back at snowline at 12:30PM and had a maggi for lunch. Then I started back to Triund top. I again spent some time at Triund Top, observing people/tourists. Most of the tourists seem Vlogegr who were very well dressed, all doled up and making videos with their mobile phones on tripod!
Then I started for camp site approx mid to Triund on same way I climbed up from Bhagsu. I decided to spend the night there to enjoy the view of Kangra valley.
Next day, I started my slow walk down to Bhagsu at 9AM and reached my hotel at 11AM, thus ending my short trekking expedition.