Before I went to trek Langtang village, I was not aware that this is one of the most popular trek in Nepal. While Nepal is in the Himalayas and there are many beautiful, challenging treks in the Himalayas, I found this trek to be quite interesting. People seem to trek EBC ( Everest base Camp)or ABC ( Annapurna Base Camp) while in Nepal, but Langtang Valley trek has its own appeal.
I did this trekking from 24th Nov 2019 to 29th Nov 2019, Kathmandu to Kathmandu. The drive from Kathmandu to Safru bensi on 24 Nov 2019 was itself quite challenging ! And then the drive back to Kathamndu on 29th Nov 2019 was more tiring than all of the trekking put together!
This is one of the easy trek for me where I did not carry my backpack! Also, I did not carry anything as we were supposed to stay in villages enroute to Langtang Village, and then to Kyanjin. I was accompanied by my college alumni who is based in Kathmandu, Nepal, Prabhat Sir. He was kind enough to arrange a porter, Khilaraj and also a vehicle to drive us to SafrBensi from where we start our trek.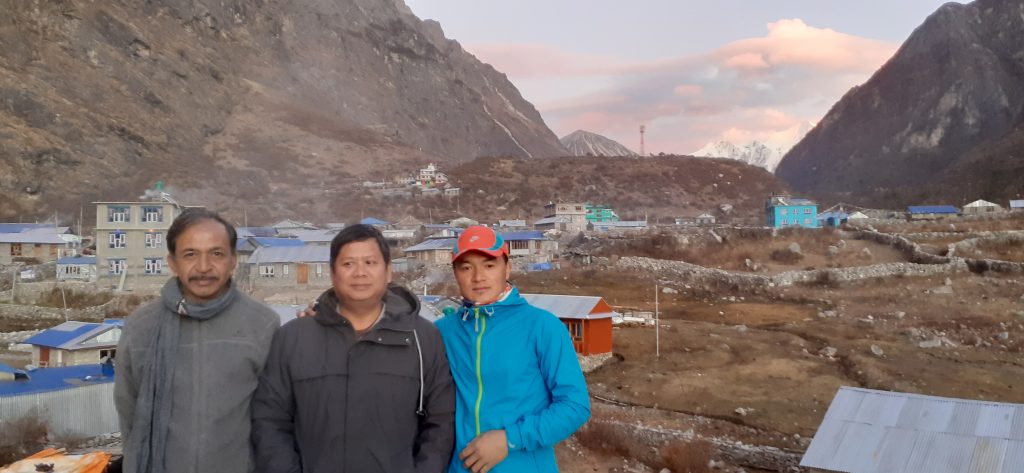 We started driving at around 12PM on 24th Nov 2019 to Safryubensi. We reached there by 10PM. En route, I had some excitement. I wanted to withdraw Nepal Currency from ATM and I could not. First, many ATM did not accept my debit card from India. Second, when it accepted, it deducted amount from my bank, but cash was not dispensed. Incidentally, this has not been resolved yet with my bank. So, I did not have any money in this trek with me and everything was paid by Prabhat sir. I will be eternally grateful to him. And I am yet to pay him back yet. Damn poor me!
Once we reach Safryu Bensi via Dhunche ( here we had to take permit for Langtang National Park, which costed us NPR 1500 per person. The price for foreigner other than SAARC nations is NPR 3000, it remians open till 10PM at night.), one thing struck to me, the food cost is quite expensive! Its more expensive than the stay!
25th Nov 2019 Monday
We started our trek without much fan fare at 8AM. We had to deposit photocopy of our passport and tentative return date and details of our guide. We reached Bamboo and had lunch there. Till Bamboo, it was moderate trekking. I had a camera backpack whigh weigh approx 6KG with 600mm lens, so it was not very difficult for me. After Bamboo, the trek became quite steep and difficult for normal people. We reached Lama hotel at around 5PM We did not really push hard and walked slowly. After rest of one hour or so, we became active again. We were carrying a bottle of Jim Beam which we took to the dining area and we became centre of attraction as that alcohol was rare to see there with trekkers! Lama hotel is at 2450 meters altitude and we did approx 1000meters from Safrubensi which was at 1450 meters.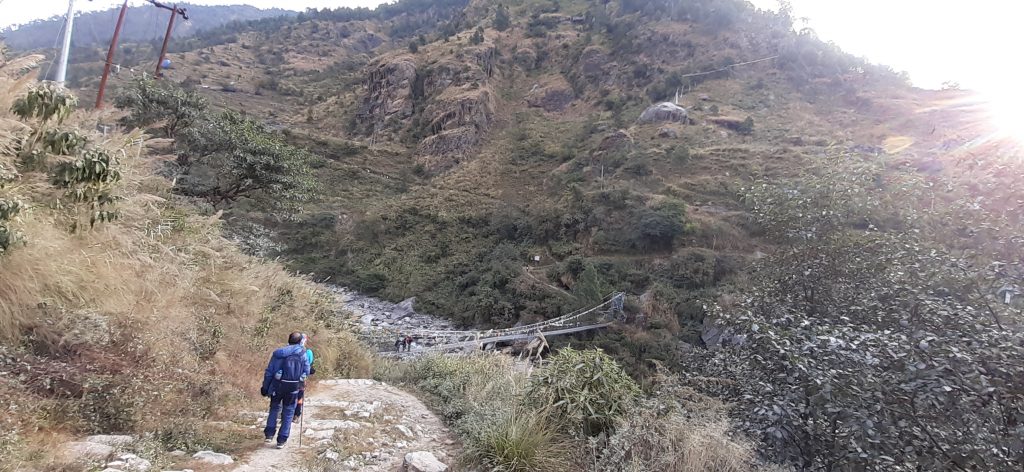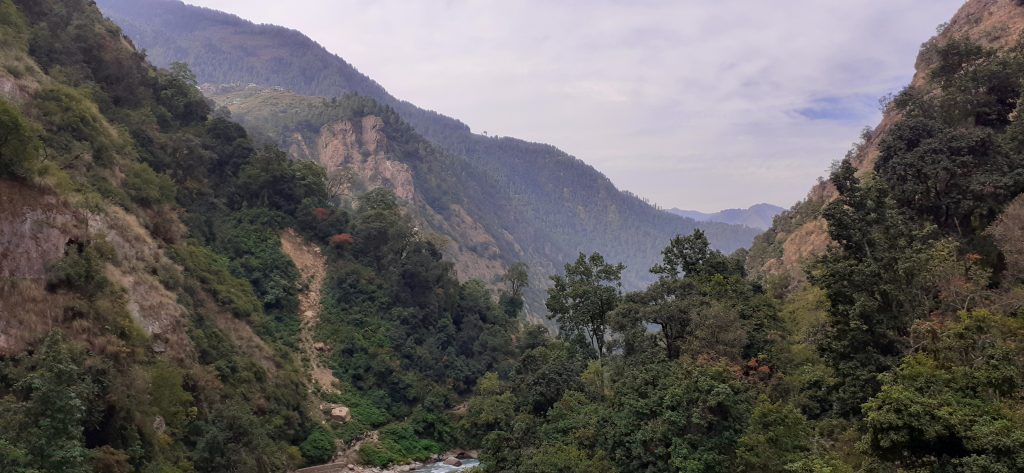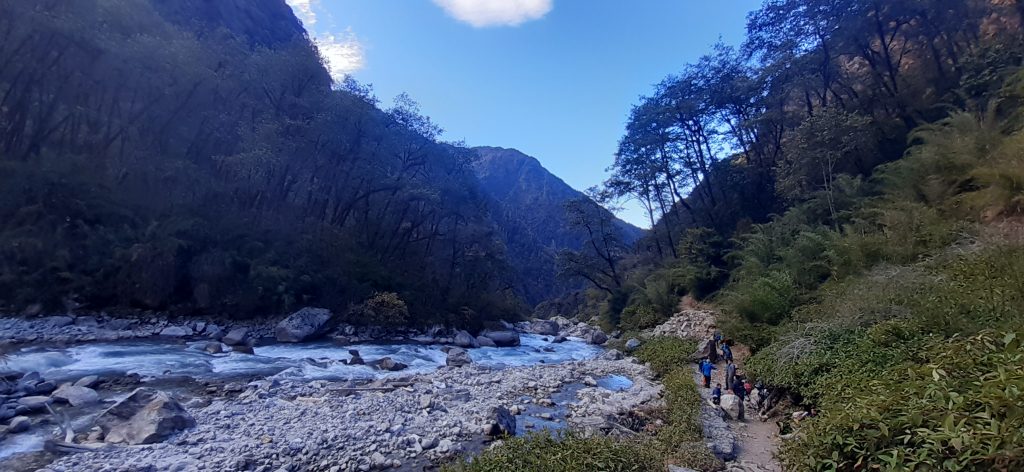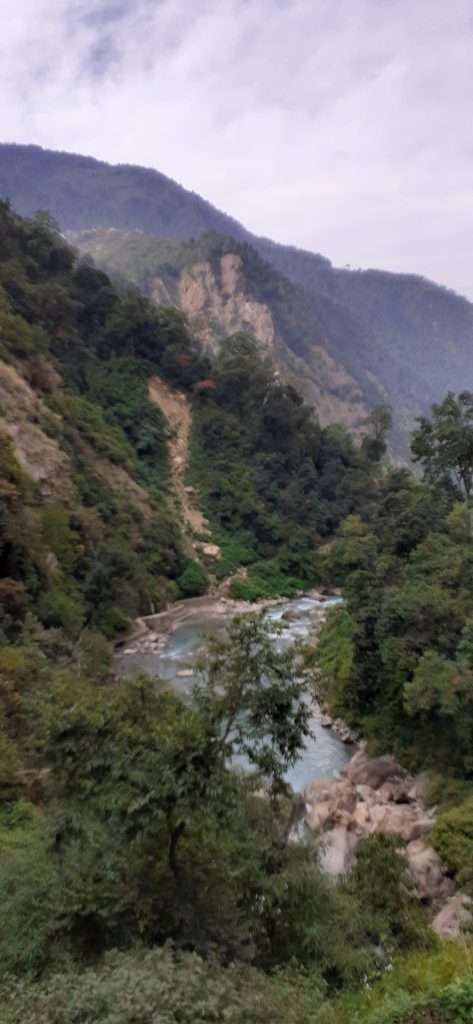 26th Nov 2019
Stay at Lama hotel was nice as we slept well after walking 16KM! Most probably, 16KM is not the distance from Safyru Bensi, we used STRAVA to keep count of our distance. One thing we did was to keep my Camera bag and another small bag carried by Prabhat sir at Lama hotel only. So, our we stuffed all our clothes and others in one big backpack which was carried by our guide and me and Prabhat sir were carrying just our mobile! We thought we could have done this in Safry Bensi itself to make our trekking easier!
Lama Hotel to Langtang Trek is very beautiful. In the first half, we were in jungle and then as we were slowly climbing above tree line. Also, snow covered mountain peaks started appearing to our joy!
En route, I met two first time trekkers from Singapore, one from Isreal who was also first time trekker. They found the trek quite difficult.
Lama Hotel to Langtang Village trek is much easier than Bamboo to Lama Hotel and is the most beautiful trek. I would recommend anyone who loves walking in the nature to make it two day trek, Lama Hotel to Ghora Tabela and the Ghora Tabela to Langtang village!
We stopped after Ghora Tabela and had our lunch. Then we reached the destroyed village of Langtang which made us emotional and sad! We saw one house just near the mountain towered by Langtang Lirung which survived the devastating April 2015 Nepal Earthquake. Except that house, the avalanche followed by the Earthquake completely destroyed the Langtang village, killing at least 280 people including approx 80 foreigner who were there at the night.
We stayed at Langtang Memorial Hotel, just after the toll collection booth. Langtang Village council collects NPR 200 per person.
Langtang Village is at 3450 altitude without tree lines. Its very cold when wind blows else very pleasant to sit in the Sun.
We walked 14KM as per strava from Lama hotel to reach Langtang village and we climbed 1000meters altitude.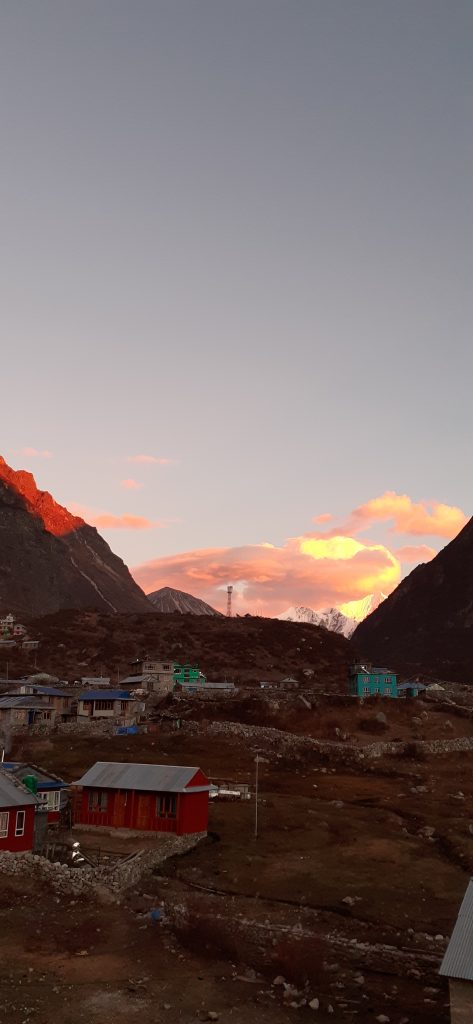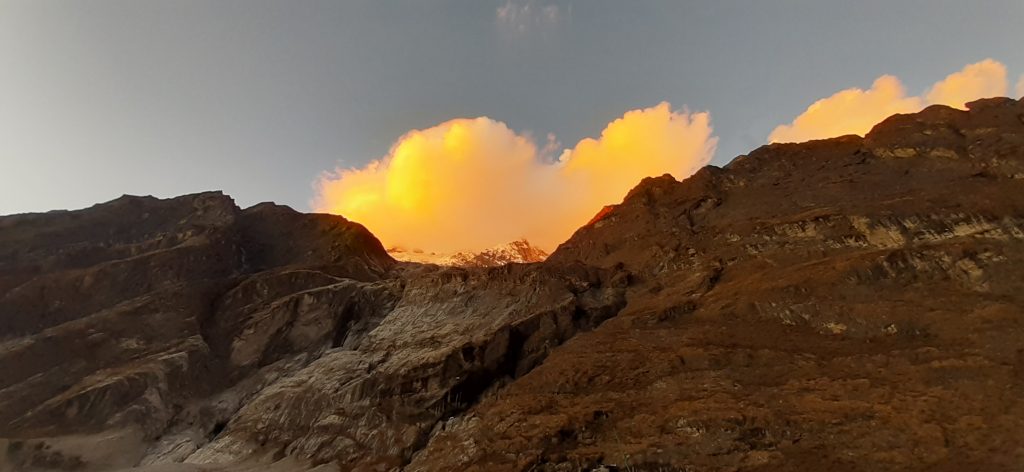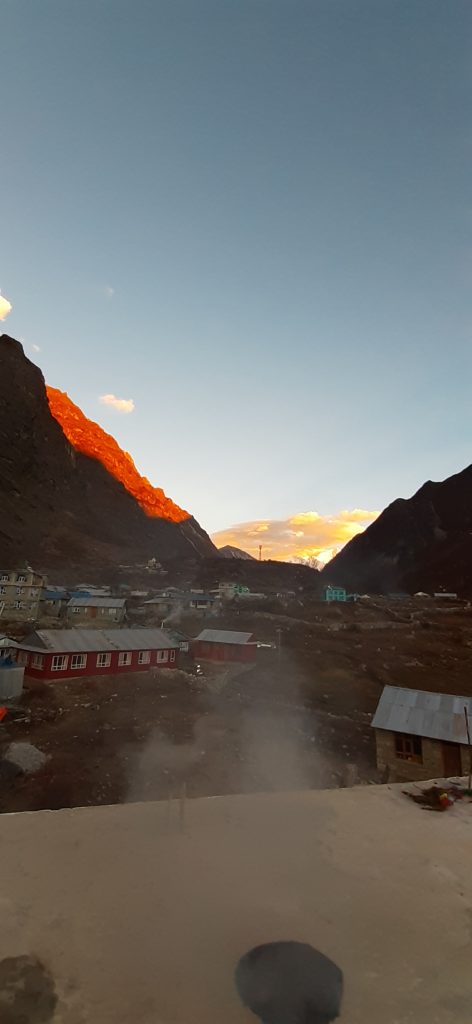 At Langtang village, you have to pay NPR 450 for warm bath, NPR 200 for hot water. These make sense as heating water seems expensive affair. Food is expensive as usual, than room. A good meal may cost more than NPR 800 per person.
Its a very beautiful place, you see snow covered peaks, a valley surrounded by high mountain from two sides. Also one can see vultures hovering the sky and murmuration of Snow Pigeon. I saw few raptors but could not identify them.
27 Nov 2019
We started early to Kyanjin from Langtang as we thought we would try to climb Kyanji Ri after we reach Kyanjin. As it was not very steep climb and relatively easy trek from Langtang to Kyanjin, we walked the 7KM in 3 hours with one stop for tea. But after we reached Kyanjin, it became cloudy also started snowfall.
At the Kyanjin Gompa, I did my head stand!
So we dropped the idea to climb to Kyanjin Ri as we thought we will not have any view from Kyanj ri. So, we just visited the Kyanin Gompa, had lunch, rested and decided to come back to Langtang village take rest and enjoy the evening at Langtang village.
Here we met a guy from mainland China and a girl from Holland, but ethnically from Hongkong.
It was good evening, we walked around the village, spoke to some villagers as well as other trekkers and exchanged some stories!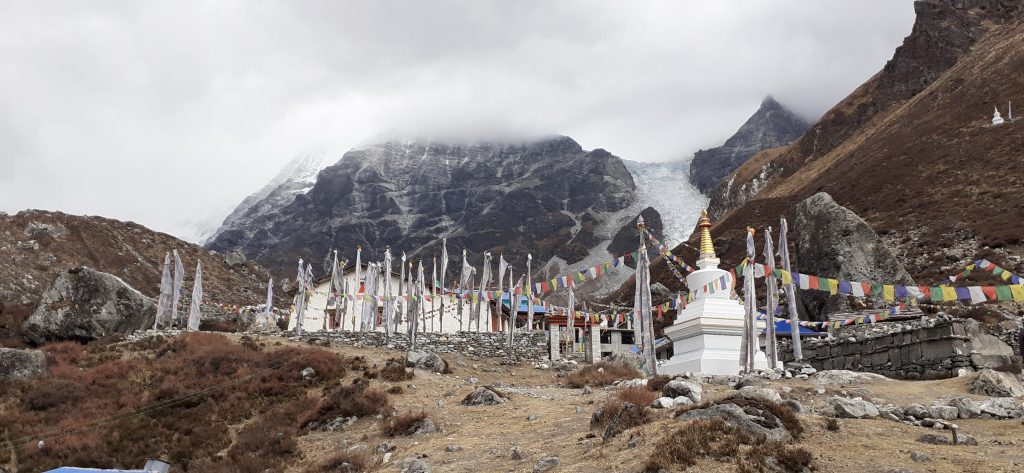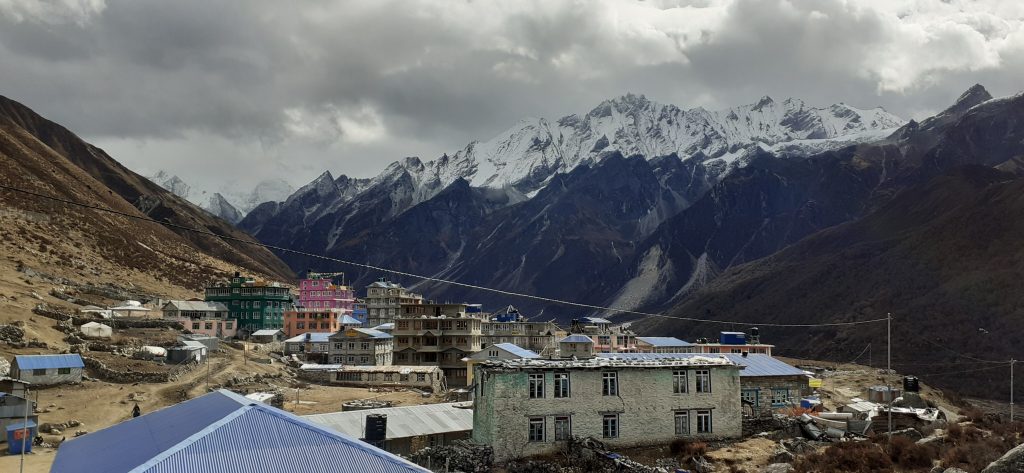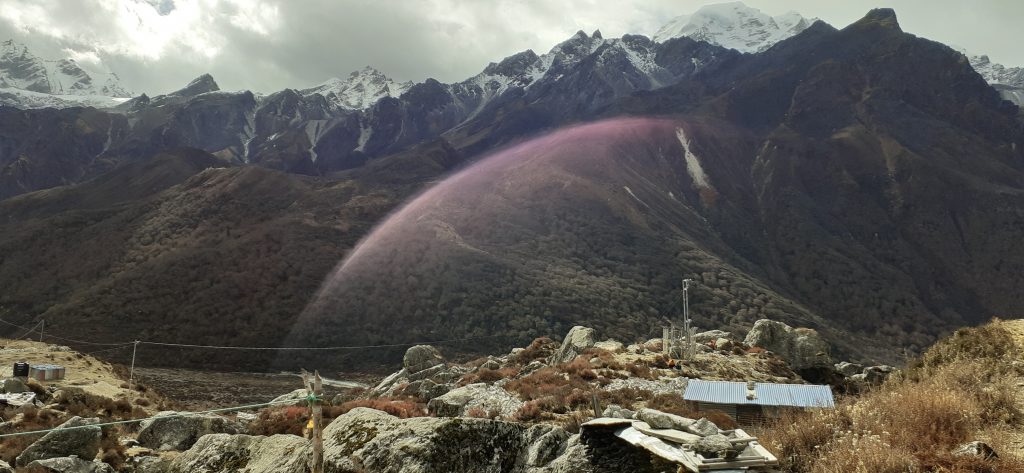 28 Nov 2019
We decided to reach Bamboo today as we wanted to reach Kathmandu the next day by evening. Also, it was now walk down,so we thought we could make it to Bamboo or even more.
But we ended up staying at Bamboo after walking 22KM from Langtang. This time, I took photographs of many birds. This was the one trek which I wanted to do bird watching too. But I found out that, in order to to bird watching, one should take the long rout of the trek via Sherpa Village. That would require one or two more days. So next time!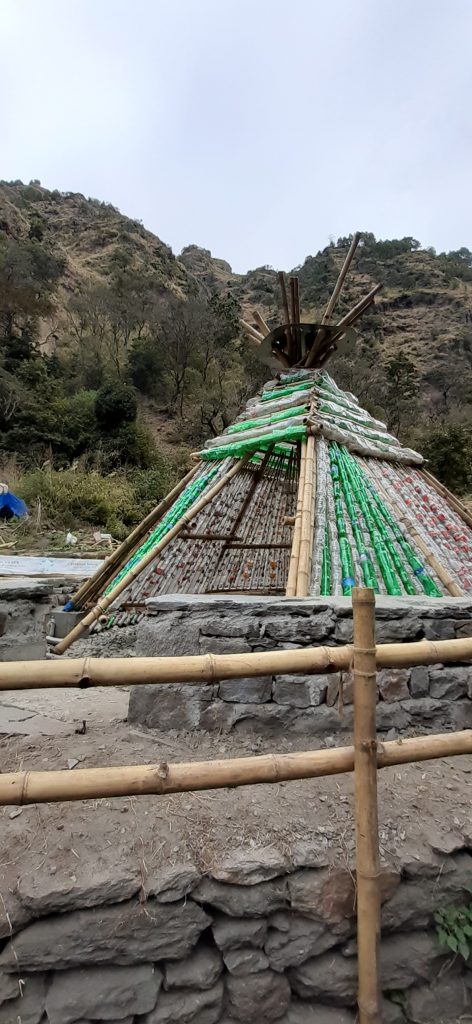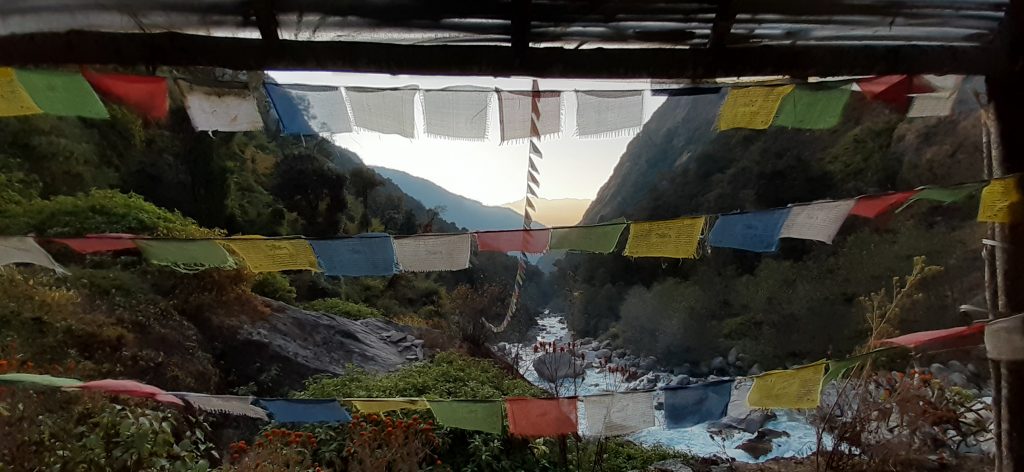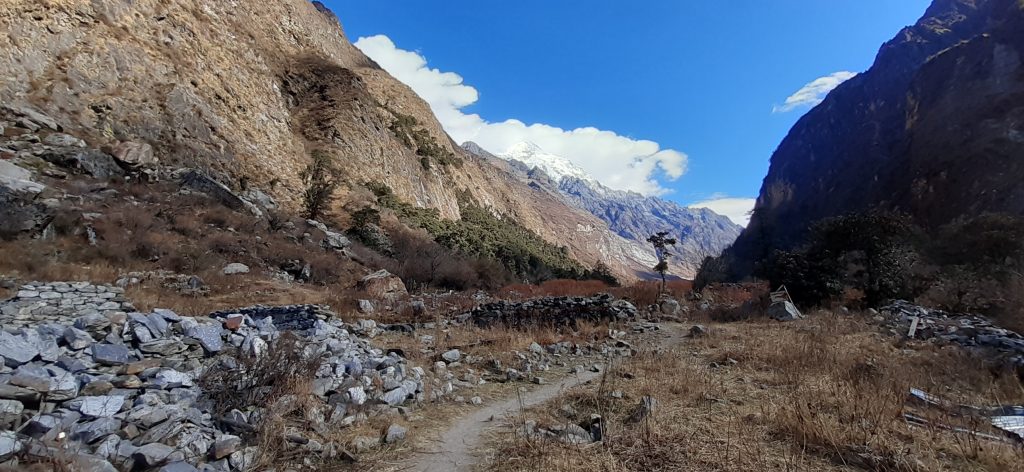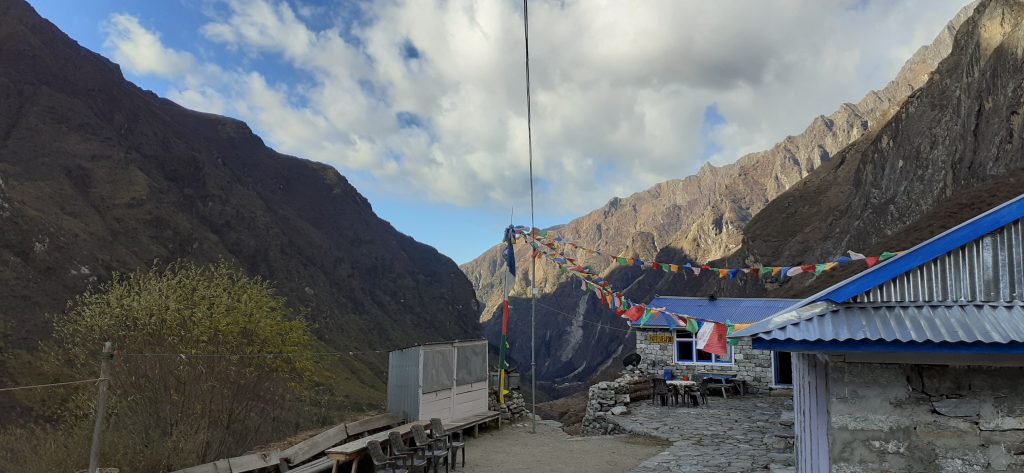 We spent the night at Bamboo which was on the riverside. At night we did some star gazing ! It was tolerable cold as we came down from Langtang. Incidentally, this became the most grueling trek for us as we did 22KM in a single day, not much rest en route.
29 Nov 2019
We got up early as we wanted to reach Safryu Bensi as early possible. Still, we could be ready only by 7AM and we walked fast enough to walk 10KM to reach Safryu Bensi at 10AM! It is normally easy to trek down, so we reached safryu bensi without any stoppage.
The car journey from Safryu Bensi to Kathmanud was very tiring as it was almost off roading till 2PM! There was road, but it was as good as a jungle trek, only four wheel drive could make it!
Looking back, It was one of the good trek in Nepal. Not very difficult, very beautiful view and lot of options to stay, eat and explore local culture. I think trekking solo is very easy here thanks to some accommodation in every 5KM or so. There are shops, villages en route and also there are trekkers almost daily throughout the year. The peak season is from September to November.
Thank you.